Understanding the financial and operational tools
and information necessary to dramatically improve your F&B financial performance
New, 90-Minute Live Webinar

Presenter: George Burkhardt, Managing Partner, Profit Mindset, LLC

Friday, September 27, 2019       1 p.m. Eastern (10 a.m. Pacific)

THE PROFIT MINDSET approach to Food & Beverage financial management focuses on specific financial knowledge or "mindsets" that are necessary for any operation to achieve maximum profitability and total guest satisfaction. This webinar will help you understand not only what must be done to achieve improved F&B financial success, but also how to do it — from experience!
George Burkhardt has spent the last 35 years as a chief executive of casino and restaurant companies. A key focus of his has been to develop or discover tools, systems and practices that assist management at all levels to maximize profitability while delighting their guests. Whether it be for restaurants, bars & clubs or banquet operations, this time tested, but rarely utilized approach, will improve bottom-line results.
As George states "I open all of my Profit Mindset seminars with one bold statement:
The P&L is useless ………..by itself."
Far too many hospitality organizations rely solely on the P&L for the analysis of financial performance. There are far better tools that can be utilized to understand and develop action plans to maximize profitability."
George believes the P&L is useless as an action-oriented tool without specific operational statistics and financial data that must accompany it. We are not going to throw out the P&L, but will show you how to greatly enhance its value. Our goal is to achieve a clear understanding of what is really going on and what can be done to achieve the desired results.
In this webinar you will learn to:
Transform the P&L into a highly useful, action-oriented tool.
Use readily available (but rarely utilized) operational and financial statistics as tools to better understand performance.
Use Trended financial and operational data to better understand what has happened and then track the results of the specific action steps that you have taken.
Use "Margin per Guest" as a key performance indicator and the basis of a Menu Engineering system.
Use KVI's (Key Volume Indicators) and Labor Hours per Guest to better manage labor cost and schedule labor more effectively.
After participating in this program, you will have a much clearer view of how things work and the interrelationship between numerous key financial and operating statistics and what specific action steps you can take to address your F&B profitability issues.
Train Your Team For One Low Price!
THE PROFIT MINDSET webinar is recommended for senior and middle F&B management, as well as General Management, Finance, P&A, and Marketing Management that interfaces with F&B.
You can set up a computer and projector in a conference room and train a group of F&B managers for one low price.
The registration fee includes 90-days unlimited access to the webinar recording, so managers who can't make the live webinar can benefit from the training. The recording also allows you to set up internal training programs or group discussions that you can do on your own schedule and at your own pace.

Bio: George Burkhardt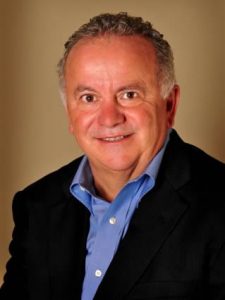 George Burkhardt has a 35-year background as a Casino and Hospitality executive and consultant. Over his career he has served as:
Managing Partner and co-founder of Exceptional Gaming and Entertainment, LLC, a casino management company;
Owner of Profit Mindset, LLC, a casino and hospitality consulting company;
Corporate Executive Vice President – F&B for Grand Casinos, Inc/Park Place Entertainment.; where he was responsible for 12 casinos' F&B operations, including four tribal properties.
CEO/COO of one casino and three national/regional restaurant chains.
During George's time as Managing Partner of Exceptional Gaming & Entertainment, the management company for the Tunica-Biloxi Gaming Authority (Paragon Casino Resort) he served as CEO or COO for the resort over a 10-year period starting in 2005. Paragon Casino Resort enjoyed favorable national recognition during his tenure there, including being named "One of the Top Ten Casinos Outside of Las Vegas" by Yahoo Travel in July, 2014. Paragon also enjoyed numerous national and regional awards for its food & beverage and entertainment operations.
George founded Profit Mindset, LLC, a consulting and development firm, to share his expertise, and that of his like-minded associates, in assisting hospitality organizations to "Maximize their Profitability while Delighting their Guests." George is based in Gulfport, Mississippi.
Testimonials
"George was responsible for the transition of our F&B functions as corporate EVP. Upon his arrival, the F&B department's monthly loss was six figures+. By applying his time-tested "secrets" and principles, the team reduced the monthly loss by 50% after just 90 days and achieved break-even within 6 months."
Barry Morris, EVP/GM, Caesars Indiana
"I have remained in the business as F&B director and Executive Chef for the past ten years and have been teaching at the local colleges in the field as well. I will tell you that I have always utilized George's principles of menu engineering and productivity ratios wherever I go and have a pretty impressive success record while using them."
Matthew Meadows. CEC, MBA
"Bring your whole Team – CEO, Finance, VP/Directors, outlet managers and chefs to gain a lifetime of knowledge on operating profitable food venues"
Edward Hanson, CFO, Seven Clans Casinos

Webinar Cost:

$179 per computer that accesses the webinar
Cost includes 90 days unlimited access to the webinar recording.
The PowerPoint presentation is not included with this webinar.
The seminar cost is based on the number of computers accessing the webinar, so you can set up a computer in a conference room and have multiple people participate in the webinar for one low price.
Registration and Payment Deadline:  September 25, 2019

Cancellation fee:
for cancellations before September 25, 2019
the registration fee will be refunded less a $49 cancellation fee.
Questions
Dave Newton  702-255-9891
dave.newton@cdcgamingseminars.com